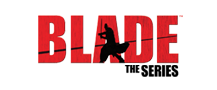 Blade joins forces with Krista Starr to help her get revenge on an evil vampire who killed her fraternal twin brother.

As Krista is pulled into the underword, she teams up with Blade and Shen to infiltrate the vampires from the inside and out.

Blade seeks out Rev. Carlyle to get a lead on the vampiric-ash trade, then uses Krista to get information on the super-vampire Fritz.

Blade and Shen track down a vampire who was used in Marcus's experiments while Krista visits her mom for the first time after being turned.

Blade is caught by a gang of vampires called Bad Blood, a group that Blade first turned.

Krista goes through a bloody ritual to learn where Boone is, while Blade focuses on Vanessa, who is very pregnant.

Marcus struggles to find a way to get Vanessa back from Blade before deciding that Krista might be the answer.

Blade tries to solve the murder of a cop named Flanigan who helped care for him while growing up.

One of Krista's relatives goes on a rampage and it's up to Blade and Krista to find her and give them the serum.

Krista struggles after a personal tragedy and distances herself from both Blade and Marcus.

Blade and Shen learn that the White Prince, an infamous vampire and serial killer, has made a resurgence and is working out of a Detroit nightclub.

News of the plane crash forces Blade to seek help from his new partner, Agent Ray Collins.

Marcus makes his final move on the Purebloods and discovers the whereabouts of Blade's and Shen's main hideout.